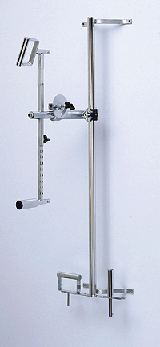 Model 600 - Axial Resistance Shoulder Wheel
The most versatile wheel manufactured today.
6" to 39" range of motion.
Smooth resistance, calibrated to monitor progress.
Choice of grips, exactly right for each exercise.
Height adjustment for standing or seated patients.
Interchangeable attachments with holder / bracket.
Chrome plated.
Wall mounted.